Similarly to larger enterprises, small and medium sized businesses rely on technology to drive business productivity and growth. Regardless of the size of the business, every office needs a fast, reliable, cost-effective print environment capable to meet their professional output needs.
The issue that most SMBs are faced with are limited resources and expertise with managing their print environment. As a result, a big administrative burden is placed on staff, which also diverts their time and attention away from their core responsibilities. A big misconception of managed print services (MPS) is that it only works for large organisations. However, MPS is effective in every office – regardless of size.
Do SMBs Need MPS?
SMBs are looking for ways to take action against high costs and decreased productivity created by unmanaged printing. The need for MPS is as essential for SMBs as it is for larger businesses. In fact, a recent survey by Quocirca revealed the following: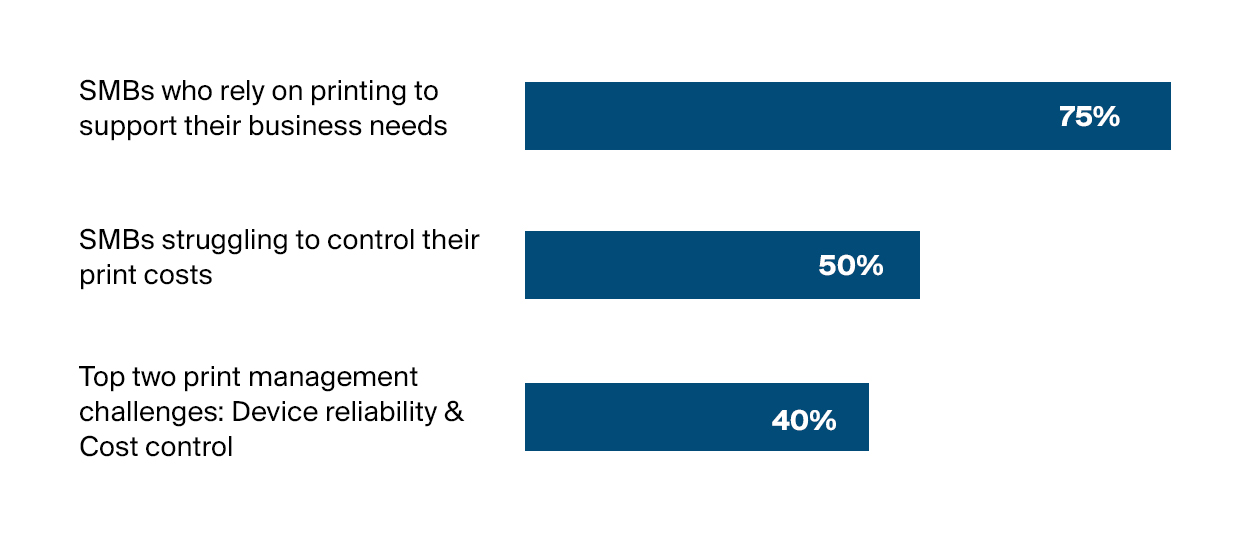 Source: Information gathered by Quocirca survey
Why MPS?
With the purchasing of ink, toner, paper, and maintenance fees, your total annual print costs can become staggering. To put things in perspective, think about your office environment – several desktop computers, telecommuters, and mobile workers, all using the same print equipment. When employees are ready to print, they do not stop to consider that:
Black and white ink is less expensive than colour ink
Inkjet or laserjet printers are more expensive than a workgroup or multifunction printer
Printing on one side is more expensive than duplex printing
Ordering print supplies separately without keeping track contributes to high costs
Without being aware, your staff could be contributing to higher annual costs due to an unmanaged or improperly controlled print environment. So, why should SMBs look to MPS for a solution?
1. Reduced Costs
Taking control of your printing costs can be accomplished through MPS. MPS takes cost reduction to another level in a very unique way. Through a comprehensive analysis, an MPS provider will be able to identify:
How frequently each print device is used
The security of each print job
The optimization of printer deployment
Most businesses have no idea how many printers they have in their office or how much they pay each year. With MPS, all your costs are consolidated so there are never any surprise fees – yes, this includes preventative maintenance, ink, toner, and paper. Additionally, during the initial assessment of your print environment, your MPS provider will be able to identify any ineffective printers; determine each department's print needs and allocate cost effective printers to meet those needs; as well as, train staff on new devices and printing costs.
When it comes to printers, less is more and bigger is not always necessarily better. MPS determines which types of printers are needed based on your printing output needs – whether that be high or low volume print jobs. Best of all, your print environment is constantly monitored so that you can easily trace back each print job to its department, and optimised in order to meet your ever changing printing needs.
2. Document Security
If your print environment is not properly secured, you could be at risk of a breach. This can simply happen when an employee prints directly from their mobile device, or through 'scan to' functionalities. Print security is just as important as the rest of your IT infrastructure. Accordingly, ensuring you have a proper print security strategy is vital in protecting your documents against breaches. If you would like to learn more about how to secure your print environment, click here.
3. Reduced Carbon Footprint
MPS helps you reduce your carbon footprint without interrupting your daily business tasks. Being eco-friendly at the office not only benefits the environment but also your bottom line. With MPS, your provider will be able to asses your business' current technology and usage and provide recommendations on how to decrease your environmental footprint. By deploying energy efficient printers, multifunction peripherals (MFPs), and implementing responsible and secure printing practices, businesses are able to reduce energy consumption, eliminate unnecessary printing, and reduce waste. If you would like to learn more about how to be eco-friendly with MPS click here (link to 'How To Be Friendly With MPS' blog).