Facilitate collaboration and telework
From person to person or between teams or departments, regardless of where they are physically located, executives from any company, people and groups can interact with each other in real time through video conferences.
With Video Conferencing solutions from Ricoh, you will be able to maintain the productivity of your work teams by implementing recognized products and software. Expert support will also be readily available to make recommendations based on your needs.
Advantages include:
Reduction of travel time and expenses of the entire work team.
Retain employees with a better work-life balance.
Increase productivity as decisions can be made faster.
Services and solutions for fast and effective clients.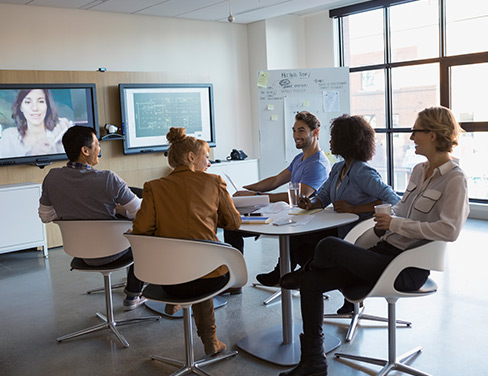 With the right unified communication system, you can support a strong business position through effective collaboration and improved productivity. 
Structured meetings with communication
Workspaces are adapting to new styles of collaboration; participants need to have communication and tools that are easy to use which allow for interaction with clients. No matter the size of your organization, your needs can be met with solutions of two persons to large rooms of 16 persons or more.
Our solutions give you:
Communication at any time.
Wiring Reduction.
Start meetings with a single touch.
Flexible and replicable configurations.
Project files directly from your PC among many other benefits.
Well-designed Meeting and Office Space Rooms
Ensuring the right environment can increase your productivity
Purpose-free generic "thinking" areas in open-plan spaces, encourage workers to do their thinking in the presence of other people, rather than alone. This in turn increases creativity and performance.
Let us work with you to design your office space which can fit your budget and spark that creativity that improves your company performance.
Key features that make for a collaborative office space:
An open plan and other design features (e.g., high-traffic staircases) that encourage accidental interactions.
More communal areas than are necessary—multiple cafeterias, other places to read and work that encourage workers to leave confined offices.
Emphasis on areas that hold two or more people, rather than single-occupancy offices.